OLIBER PEREYRA OF THE HARRISON HOUSING AUTHORITY WAS AWARDED BY THE SOUTH DAKOTA HIGHWAY PATROL IT'S SUPERINTENDENT'S LIFE SAVER AWARD
 New Jersey State Troopers along with Harrison Police Department assisted South Dakota Highway Patrol with presenting a brave 11-year-old Oliver Pereyra with South Dakota Highway Patrol Superintendent's Life Saving Award in Harrison, N.J. on Friday, Sept. 17, 2021. On March 9th of this year South Dakota Highway Patrol was dispatched to a crash with injuries, where a Honda Pilot lost control and entered icy water next to the roadway. With water temperatures just above freezing, an outside temperature of 39 degrees and wind gust of 24 miles per hour, 11-year-old passenger Oliver Pereyra assisted in getting 6 other passengers out of the vehicle as it began to sink. Two young family members who were buckled in went under water as the vehicle was submerged. Oliver without hesitation went in the water and freed both small children and got them to safety before they drowned.
We have pictures from the Award Ceremony: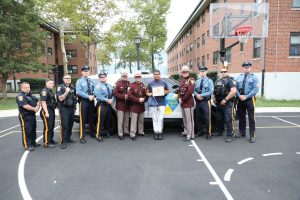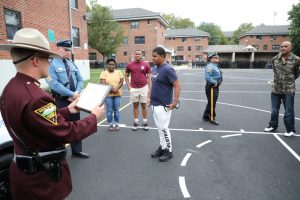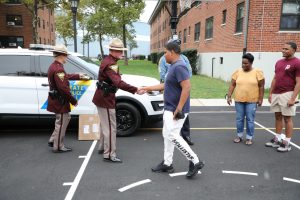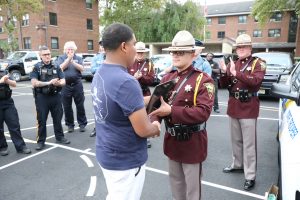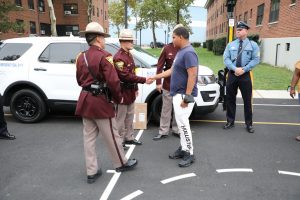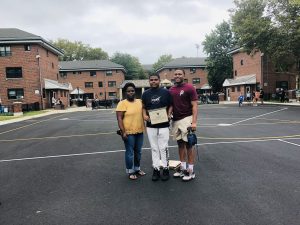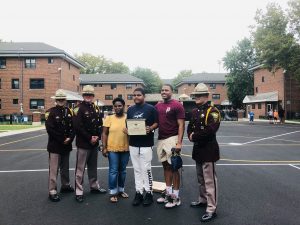 ON BEHALF OF THE HARRISON HOUSING AUTHORITY
I WOULD LIKE TO THANK THE HARRISON POLICE DEPARTMENT FOR PROVIDING THE WATER AND THE ITALIAN ICE AND THE HARRISON-EAST NEWARK ELKS LODGE FOR PROVIDING THE BOOK BAGS AND GIFT CARDS.    I WOULD ALSO LIKE TO THANK KELLY MATHEWSON, THE TENANT ACTIVITY COORDINATOR FOR SHOPPING FOR THE HAMBURGERS, HOT DOGS, SODA, JUICE AND SNACKS!  SPECIAL THANKS  TO OUR MAINTENANCE STAFF FOR COOKING ALL THE HOT DOGS & HAMBURGERS ON SUCH A HOT,  HUMID DAY!   THANKS ALSO TO MY OFFICE STAFF AND OTHER TENANTS THAT ASSISTED IS MAKING A VERY SUCCESSFUL BARBEQUE. 
RAY LUCAS
EXECUTIVE DIRECTOR
NOTICE TO ALL TENANTS
 IF YOU BECOME LAID OFF OR HAVE CHANGES TO YOUR HOURS – PLEASE BE ADVISED THAT BEFORE WE CAN DO ANY CHANGES TO YOUR RENT YOU MUST PROVIDE A LETTER FROM YOUR EMPLOYER STATING THAT YOU ARE UNEMPLOYED AND/OR WHAT YOUR NEW HOURS ARE!  ALSO WHEN YOU START RECEIVING YOUR UNEMPLOYMENT BENEFITS, WE WILL NEED A COPY OF THE FORM & AMOUNT SO THAT YOUR RENT CAN BE ADJUSTED ACCORDINGLY ASAP.   YOU CAN EITHER DROP OFF THIS INFORMATION IN OUR MAIL SLOT OR EMAIL IT TO DCOUCH@HARRISONHOUSING.COM.  IF YOU MUST CALL THE OFFICE PLEASE LEAVE A MESSAGE ON OUR ANSWERING MACHINE AND WE WILL GET BACK TO YOU.  PLEASE LISTEN TO WHOLE MESSAGE!  ONLY CALL 973-483-1489 FOR EMERGENCY WORK ORDERS ONLY!!!!
PLEASE CALL EMERGENCY WORK ORDERS IN ONLY AT THIS TIME BECAUSE OF THE CORONAVIRUS/COVID 19!
EMERGENCY NUMBERS
HOUSING OFFICE  –  973-483-1489
POLICE DEPT.           – 973-483-4100
FIRE DEPT.                  – 973-483-0611
HEALTH DEPT.        – 973-268-2452 –  973-268-2464
TOWN HALL            – 973-268-2425 – 973-268-2444
SENIOR CENTER     – 973-268-2463
TENANTS PLEASE FOLLOW CDC GUIDELINES, WASH HANDS OFTEN, STAY INSIDE, IF POSSIBLE, PLEASE STAY AT LEAST 10 FEET APART FROM OTHER PEOPLE AT ALL TIMES!  IF YOU HAVE A FEVER, COUGH OR A HARD TIME BREATHING, PLEASE CONTACT YOUR DOCTOR OR EMERGENCY SERVICES AS SOON AS POSSIBLE!
 TO ALL TENANTS – DO NOT FLUSH ANYTHING DOWN THE TOILET BOWL BUT TOILET PAPER!    THE WIPES ARE NOT FLUSHABLE (EVEN THOUGH THEY SAY THEY ARE) THEY AREN'T IN OLDER BUILDINGS LIKE OURS!  THE WIPES ARE BACKING UP THE BUILDINGS PLEASE STOP THROWING THEM DOWN THE TOILET!!!!
March 30, 2020
TO ALL TENANTS OF THE HARRISON HOUSING AUTHORITY:
STATEMENT FROM THE EXECUTIVE DIRECTOR
 We encourage all residents to continue to frequent the Harrison Housing Authority's website www.harrisonhousing.com where we have posted various flyers that the CDC and other Health Agencies have provided so that you can protect yourself and your families.  They recommend frequent hand washing, keeping your distance from other people (at least 6 to 10 feet) where possible, and staying home when sick.
As previously advised that because of the Coronavirus (Covid-19) we are requesting tenants to drop off their rent payments and any paperwork in the mail slot next to our entrance door.  All contact with the office will be by telephone only.  Due to this virus we are doing EMERGENCY WORK ORDERS ONLY, to protect both the tenant and our maintenance workers.  Also inform us whether anyone in your home is sick or has been out of the country recently so that our men can take the necessary precautions when they have to come into your apartment.  Please stand at least 6 to 10 feet away from the men when they have to enter your apartment to do the repairs as a preventive measure.
We have also purchased plungers for each tenants' apartment so that before you call in for either a clogged toilet, tub, and a kitchen or bathroom sink back up, please try the plunger first.  Our maintenance men will be knocking on your door to give you one.  If the plunger does not work, then call the Housing (973-483-1489) and we will send someone over.   This is not only for the tenants' safety but for our maintenance men!
I would also like to bring to your attention that if someone knocks on your door and you do not know them, please call the police immediately (Harrison Police 973-483-4100) do not open it!
I realize that everyone is nervous and scared, but it is better to be aware of what is going on and be prepared.  I hope everyone is following the CDC guidelines and are all washing your hands, social distancing and keeping in touch with your families in these trying times.
PREVIOUS NOTICES FROM EXECUTIVE DIRECTOR                         
 EXECUTIVE DIRECTOR LTR. – 3-13-2020
 EXECUTIVE DIRECTOR LTR. 3-17-2020                   
CDC  FLYERS
what-you-should-do
Home-Emergency-Kits
COVID19-symptoms
2019-ncov-factsheet-sp
2019-ncov-factsheet
protect-your-child-from-flu-during-school-year-item2
stop-the-spread-of-germs-spanish
stop-the-spread-of-germs
HRHC Pandemic Preparedness
do-your-part-slow-spread-flu-item5
Community-Interventions-Infection-Control-H

Public Service Electric & Gas
Life-Sustaining Equipment
If you have a family member or constituent or someone you know relies on electricity to run life-sustaining equipment, like a respirator or dialysis machine, please advise them to register their equipment with PSE&G.  They can call PSE&G at 1 – 800 -436 -7734 or they can use the application on the web site,
https://nj.pseg.com/safetyandreliability/stormsafety/beforeastorm.